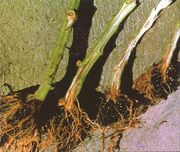 Identifying Features
Edit
Poor drainage can lead to root disease. Below ground the roots become dark brown and corky, above ground the plants tend to wilt in hot weather.
Treatment
Edit
Roots cannot be cured once they have taken hold. Mulch around the stems with moist peat to promote the formation of new roots.
Prevention
Edit
Next year grow plants in bags, fresh compost or sterilised soil.
Ad blocker interference detected!
Wikia is a free-to-use site that makes money from advertising. We have a modified experience for viewers using ad blockers

Wikia is not accessible if you've made further modifications. Remove the custom ad blocker rule(s) and the page will load as expected.