In the flowering plants, an ovary is a part of the female reproductive organ of the flower or gynoecium. Specifically, it is the part of the pistil which holds the ovule(s) and is located above or below or at the point of connection with the base of the petals and sepals. The pistil may be made up of one carpel or of several fused carpels, and therefore the ovary can contain part of one carpel or parts of several fused carpels.
Ovary position
Edit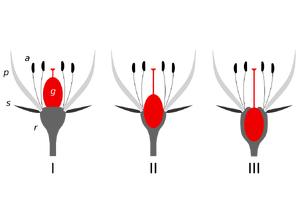 The ovary may be superior (standing outside of the receptacle, surrounded by the perianth), half-inferior (sitting partially within the receptacle and partially withing the perianth) or inferior (contained totally within the receptacle).
References
Edit
Ad blocker interference detected!
Wikia is a free-to-use site that makes money from advertising. We have a modified experience for viewers using ad blockers

Wikia is not accessible if you've made further modifications. Remove the custom ad blocker rule(s) and the page will load as expected.