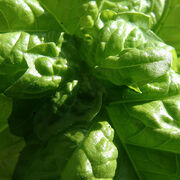 In botany, a leaf is an above-ground plant organ specialized for photosynthesis. For this purpose, a leaf is typically flat (laminar) and thin. As an evolutionary trait, the flatness of leaves works to expose the chloroplasts to more light and to increase the absorption of carbon dioxide at the expense of water loss.
Leaves are also the sites in most plants where transpiration and guttation take place. Leaves can store food and water, and are modified in some plants for other purposes. The comparable structures of ferns are correctly referred to as fronds. Furthermore, leaves are prominent in the human diet as leaf vegetables.
References
Edit
Ad blocker interference detected!
Wikia is a free-to-use site that makes money from advertising. We have a modified experience for viewers using ad blockers

Wikia is not accessible if you've made further modifications. Remove the custom ad blocker rule(s) and the page will load as expected.