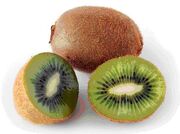 A fruit originally from China. The kiwifruit is a berry with emerald green flesh that is juicy, sweet and slightly tart. It contains small black edible seeds. The skin is edible but most people prefer to remove it. In North America, the Hayward variety of kiwifruit is the most common.
kiwi often do not survive the first growing season. This is generally due to planting in a poorly drained soil and the development of root rot or neglect after transplanting. Survival can be improved by growing them in a five gallon container for the first season. Plants should be staked and transplanted only after they have become well established late in the first growing season or after the danger of frost is past the following season. The plant must be transplanted to the yard or the container must be protected during the winter to prevent the roots from freezing. Water the plants adequately, but not excessively.
Containers
Edit
kolomikta may be hardy to minus 40 F, according to the University of Minnesota. Hardy kiwifruit vines grow well in containers, given support and the proper sunlight, water, fertilizer, pruning and chilling hours. Hardy kiwifruit are not self-fruitful, so you will need one male and one female plant to generate fruit.Read more: How to Grow Hardy Kiwi in Containers
Aftercare
Edit
Ad blocker interference detected!
Wikia is a free-to-use site that makes money from advertising. We have a modified experience for viewers using ad blockers

Wikia is not accessible if you've made further modifications. Remove the custom ad blocker rule(s) and the page will load as expected.