John Innes compost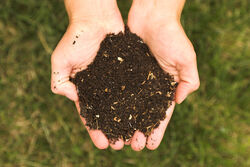 John Innes compost is not a manufacturer of compost, they are a range of composts developed at the John Innes Institute, named after John Innes, a nineteenth century property and land dealer in the City of London. On his death in 1904 he bequeathed his fortune and estate to the improvement of horticulture by experiments and research. The result was the establishment of the John Innes Horticultural Research Institute initially at Merton in Surrey, but now located at Norwich.[1] The formulae contain loam, peat, sand or grit, and fertiliser in varying ratios for specific purposes.
John Innes mixes
Edit
References
Edit
Ad blocker interference detected!
Wikia is a free-to-use site that makes money from advertising. We have a modified experience for viewers using ad blockers

Wikia is not accessible if you've made further modifications. Remove the custom ad blocker rule(s) and the page will load as expected.